The creators at The Grove bring you a fun filled educational experience for kids to cherish. Tour reservations begin in August. The shady midway grounds are available to all groups after tours for snack or lunch time.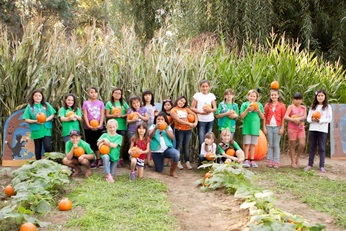 The Fun Filled Forest Groups venture on foot into the famous Forest where they will see nature at it's spookiest along the twists and turns.

Corn Maze Here wee ones can trek their way through the kid sized Corn Maze trail after a quick demonstration about how corn grows.

---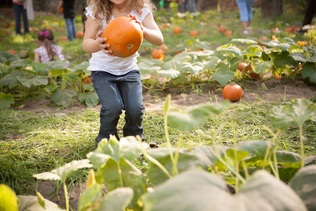 The Pumpkin Patch Kids will get to choose their own pumpkin to take home right from the pumpkin vines after they've learned all about how pumpkins grow.
---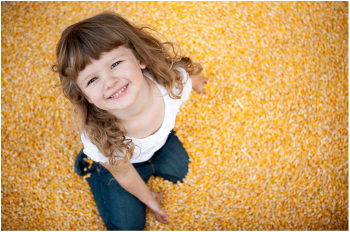 Corn Kernel Pit Kids and adults all love playing in a pit full of Corn Kernels (seeds). It's an experience not soon forgotten complete with sand toys.

Picnic Play Time Tours will all end on The Grove's midway with picnic tables, play areas, photo stages and lots of Halloween and harvest decor.
---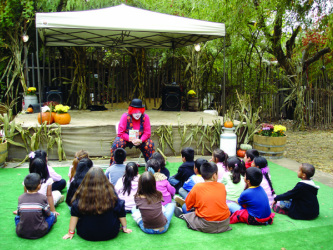 Hayrides! Tours include tractor pulled Hayrides past the outlands of Pumpkin Grove where folks can see Farmer Billy Bob's wonderful world of Halloween fun.

Story Time Sit down and enjoy. A story about life for Farmer Billy Bob Hobb and his friends at Pumpkin Grove will be shared with the group by one of his friends. For an additional amount, kids can take home a book of their own that Billy Bob himself can sign!
---
Potluck Picnic at Pumpkin Grove is a storybook kids will get to take home. It's a meaningful story about Farmer Billy Bob's day at The Grove when giving away all his prized pumpkins led to the best Potluck Picnic ever. Written specially for Pumpkin Grove by DeAuna Marks and beautifully illustrated by Betty Cornelius, this book will be one to treasure.

Coloring Book Farmer Billy Bob's Cookin' Clan conjure up their wonderful pumpkin grub. The booklet includes recipes that kids can brew at home.
---